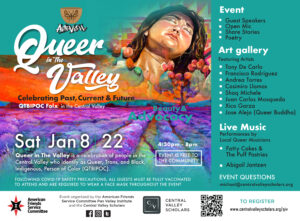 Hosted by ArteVism Fellows Michael Piña and Paulina Rodriguez Ruis. 
Queer in The Valley is a celebration of Central Valley residents who identify as Queer, Trans, Black, Indigenous, and People of Color (QTBIPOC). This event is designed to showcase the beauty and advocacy that emerge when we provide resources and funds for the QTBIPOC community. 
By hosting this event, we advocate for safe spaces for Fresno's QTBIPOC community, places that allow connection, healing, and exploration of intersecting identities and expressions. Together, we are healing the trauma that members of this community may experience growing up because of their gender expression and sexual orientation, including the loss of family members, imposed gender roles, and fear of intimacy and connection. 
Participants will have the unique opportunity to express themselves through creative mediums, including poetry, music, fashion, gender expression, makeup, and cultural events centered on intersectional identities.