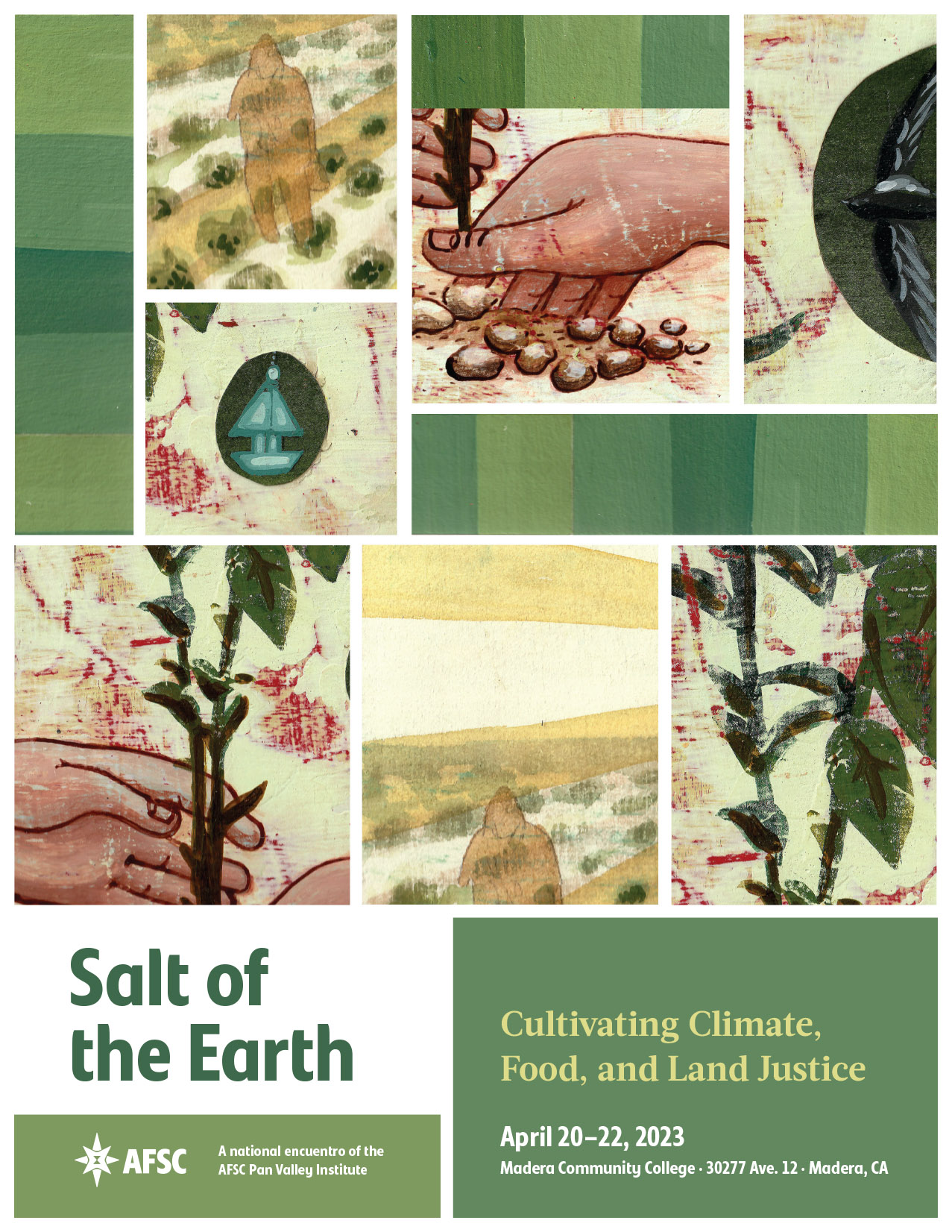 Salt of the Earth National Encuentro
Cultivating Climate, Food, and Land Justice
Thursday, April 20 to Saturday, April 22, 2023, Earth Day
Madera Community College 30277 Ave 12. Madera, California 93638
EVENT PROGRAM 
1:00 p.m. – 5:00 p.m.
Registration
The first day of Registration for people attending the entire conference. Registration will be open until Saturday, April 22, from 9:00 a.m. to noon.
5:00 p.m. – 6:30 p.m.
Hands that Forge History Photo Gallery Opening – Tudor Stanley Photography
This gallery exhibits the Pan Valley Institute's photo archive documenting 20 years of work. It tells stories of immigrants and refugees building a sense of belonging, place, and community agency.
2:00 p.m. – 4:00 p.m.
Theater of the Oppressed Workshop, with Gina Sandí Díaz, CSU Fresno.
Registration Fee $100.00 for those not registered to the entire conference
The Theatre of the Oppressed is a cultural organizing methodology for community building. In this workshop, we will focus on Forum Theatre, a problem-solving technique in which an unresolved scene of oppression is presented. It is then replayed with the audience invited to stop the action, replace the character they feel is oppressed, struggling, or lacking power, and improvise alternative solutions to the problem. In the words of Augusto Boal, creator of Theatre of the Oppressed, this is a rehearsal for real life. The workshop is fully bilingual. We encourage English and Spanish speakers to attend. Participants must register.
Taller de Teatro del Oprimido
El Teatro del Oprimido es una metodología grupal que promueve la organización comunitaria dirigida al cambio social. En este taller nos enfocaremos en el Teatro Foro, una técnica que consiste en presentar una escena de opresión al público. Luego, la escena es presentada una segunda vez, pero en esta ocasión el público tiene la oportunidad de ocupar el lugar del protagonista y ensayar posibles soluciones al conflicto. En palabras de Augusto Boal, creador del Teatro del Oprimido, es un ensayo para la vida. El taller será completamente bilingüe y abierto a personas que hablen Inglés y/o Español.
8:00 a.m. – 12:00 p.m.
Round Table on Wheels: Getting to Know California's Central Valley.
Registration fee is $60.00 for those not registered for the entire conference—limited capacity. Registration is required.
A tour through the outskirts of Madera County guided by Juan Santiago and Jose Eduardo Chavez. Besides telling their stories of migrating at a very young age, they will share their first-hand knowledge of the impact of the agroindustry on migration and the environment. Participants will learn of the struggles and opportunities of immigrant and refugee small farmers by visiting Bon Pack Farms, owned by a Mexican farmer and a southeast Asian small farmer of Chang Saetern Farms.
12:00 p.m. – 1:00 p.m.
Lunch at Cheng Saetern Farms for those attending the tour
2:00 – 2:20 p.m.
Blessing Ceremony
Following the tradition that started during the first Tamejavi Festival in 2002, this space acknowledges the history and long-time presence of our Native American brothers and sisters in the Central Valley. A member of a Native American regional tribe and a Mexican indigenous spiritual leader will conduct this ceremony.
2:30 p.m. – 3:00 p.m.
Opening Ceremony
Welcome in different languages
Carmen Moreno, (Tachi), Rosa Hernández, (Mixteco), Juan Santiago, (Zapoteco), Porfirio Hernandez (Triqui), May Gnia, (Hmong) Dalia Husein, (Arabic)
Welcome, Dr. Angel Reyna, Madera Community College President
Councilwoman Elsa Mejia, Madera City Council District 5
3:00 p.m. – 4:00 p.m.
Framing the Encuentro
PVI Background, Myrna Martinez Nateras
PVI 20 + Plus Journey, Anne Marie Richard
Creative Approaches for Social Change, Erica Kohl
Building Collective Knowledge, a Creative Approach to Social Change Toolbox, Estela Galvan, Minerva Mendoza, Juan Santiago
Where do we go from Here to Here? Robin De Lugan, PhD (TBC)
5:00 p.m. – 7:00 p.m.
A Taste of Home: Every Dish Tells a Story
Registration Fee is $60.00 for those not registered for the entire conference—limited capacity. Registration is required
The cultural kitchen is a culinary experience that brings diverse people to the table to build connections across cultures by sharing stories, experiences, and life journeys with unique dishes, foods, and flavors as the central point of departure. It is also a space to validate and reclaim the food-based traditions of indigenous people. The cultural kitchen concept started with immigrant, refugee, and indigenous women in the late 1990s and early 2000s. It was a way to build new relationships and trust among the group. The Cultural Kitchen provides space to explore cultural identity through traditional dishes from diverse communities. Provide space for dialogue around food to redefine what gourmet means. The Cultural Kitchen presents immigrant cuisines highlighting chefs and entrepreneurs emerging from these communities and how the country is gaining new flavors, adding to the rich cultural diversity.
Special guest from the Isthmus of Tehuantepec, Mexico, Martha Toledo, a Zapotec singer-songwriter and cultural organizer. Martha's artistic and cultural work focused on building a culture of peace. With more than 20 years of artistic career, Martha has delighted audiences worldwide with her songs and music of her land; She has produced three albums: Teca huiini, Nostalgia, and Estoy Viva.
8:00 – 9:00 a.m.
A traditional Oaxacan Breakfast by Colectivo Sabor a Mi Tierra
Banda San Martin Itunyoso
9:10 – 9:30 a.m.
Keynote Speaker Carlton Turner
Carlton Turner works as a performing artist, arts advocate, policy shaper, lecturer, consultant, and facilitator. Carlton is the founder of the Mississippi Center for Cultural Production (Sipp Culture https://sippculture.org). Sipp Culture uses arts and agriculture to support rural community, cultural, and economic development in his hometown of Utica, Mississippi, where he lives with his wife Brandi and three children.
Pláticas (Dialogues)
We use the Spanish term plática (dialogues) because it denotes the format of these sessions. Each plática will be facilitated by individuals with the expertise and working on addressing the issues of the Encuentro's dialogues.
10:00 a.m. – 11:15 a.m.
First Round of Platicas: The Socioeconomic Impact of Agribusiness
Labor Economics: Wages, Migration, Labor Rights
The economics of agricultural labor will be addressed. What kinds of working conditions do farmworkers experience? How do low wages contribute to poverty in the Central Valley even when the farm industry produces so much wealth? What are the impacts of seasonal farmworker migration?
Land Ownership and Access
Land ownership and management practices will be the central issues of discussion. Guided by questions like, who have been displaced from the land to make room for agribusiness? The agricultural industry requires extensive land and when land ownership is concentrated in a few major multimillion-dollar agribusiness corporations, how does this impact access for other potential land owners? What are the differences between corporate agricultural land management practices and family farms?
The Environment Impact of Agribusiness and How Climate Change is Impacting this Economy
Climate change significantly impacts agriculture, and agriculture itself also takes its toll on the environment. The central issue will be: What impact does climate concerns such as drought, extreme heat, and wildfires have upon agricultural communities? What are the health effects? Economic effects? How does the conversion from natural ecosystems to large-scale agriculture affect the environment? How do agribusiness practices such as inefficient irrigation, monocrops, and pesticide use contribute to climate impacts?
11:15 a.m. – 11:30 a.m.
Break
11:30 a.m. – 12:45 p.m.
Alternatives to Industrial Scale Agribusiness

Small Farming
Small farms are a vital source of food production and offer an alternative to corporate agriculture. The experiences of small farmers, many second and third-generation, and those who practice sustainable approaches such as organic and regenerative agriculture will be shared to start the conversation.
Cooperatives
Cooperatives are producer- and user-owned businesses that are managed by – and operate for the benefit of – their members rather than outside investors. The central discussion will be how this business model is intended to help producer-members market and process their crops with shared supplies and services in addition to the challenges co-ops face in an industry dominated by big business.
Land Stewardship
What is our connection to the land, and what is our responsibility to take care of it? Land stewardship and ways of caring for the land with attention to its social, cultural, and ecological aspects will be discussed.
1:00 – 2:00 p.m.
Lunch by Colectivo Sabor a Mi Tierra
12:00 – 5:00 p.m.
Outdoor Market
Small farmers, food vendors
2:00 p.m. – 3:15 p.m.
Second Round of Pláticas: Guiding Principles and Strategies for Social Justice

Popular Education
Examples of popular education practices as a guiding principle for bringing social change will be shared. The Pan Valley Institute defines popular education as a democratic process for social change. It's not a strategy as much as a philosophy and a way of working that focuses on everyday people. Yet equality in popular education is found not in the philosophy but in practice. Ultimately, popular education transforms disenfranchised people into social actors who continuously support, encourage, and learn from each other as they plan and implement strategies for achieving social and economic justice and then evaluate their effectiveness.
Advocacy
How do we pass a Farm Bill for the people, the produce, and the planet?
Our food system is vulnerable to climate change and is a leading contributor to the climate crisis. Peniel Ibe will lead a conversation on the U.S. Farm Bill on how we can collectively call for policies that build a more just, equitable, and sustainable food system. We will deepen our understanding of how the Farm Bill functions, its crucial role in responding to the climate crisis, and how we can advocate for legislation that prioritizes the growing needs of our communities and environment. Peniel Ibe is the policy engagement coordinator at AFSC's Office of Public Policy and Advocacy. She leads AFSC's advocacy efforts to coordinate grassroots engagement strategies.
3:15 p.m. – 3:30 p.m.
Break
3:30 p.m. – 4:45 p.m.
Cultural Organizing
At PVI, cultural organizing aims to revitalize and sustain immigrants' artistic expression and cultural practices to support their efforts to become socially and politically included and build stronger, more active communities. Our guiding principle when engaging in cultural organizing is that the participants must always choose how to express their culture and how they want to participate in civic life.
Decolonization
Historically, colonization and capitalism have created racist systems of hierarchy and social inequalities, the legacies of which we continue to struggle to overcome. At PVI, we are engaged in developing a vision of a decolonized world by continuing to analyze how the world would look if people become conscious of colonization's impact on them, their families, and their communities.
Sense of Belonging
Inclusion and a sense of belonging are essential to immigrant and refugee well-being and for fostering civic, political, and, in some instances, economic participation. Regaining cultural and historical knowledge is a step towards building a sense of belonging.
5:00 – 6:30 p.m.
Closing Ceremony
La Norteña, by actor, director, and playwriter Rodolfo Robles Cruz, PVI ArteVism Fellow.
Two estranged cousins, Elisa—a first-generation "whitewashed" Mexican-American woman, and Chayo—a campesina woman born and raised in Mexico, meet in the southern part of the Mexican-American border for the funeral of Elisa's mother. The two grapple with opposing views on opportunity, immigration, and the authenticity of the Mexican experience relative to their location.
Theater of the Oppressed
A play by Gina Sandi Diaz and Theater of the Oppressed workshop participants.